Description:
This presentation will provide an overview of the pathophysiology of COVID-19 and its effects on the cardiovascular and pulmonary systems. Medical management of COVID-19 and its implications for physical therapy management will be discussed. Following, physical therapy examination and treatment techniques for the cardiovascular and pulmonary system, including how to screen for post-intensive care unit syndrome, will be reviewed.
 Objectives:
Understand the pathophysiology of COVID-19, including direct and indirect changes to the cardiovascular and pulmonary systems.
Identify signs and symptoms of post-intensive care syndrome during clinical examination.
Discuss basic cardiovascular and pulmonary examination and treatment techniques.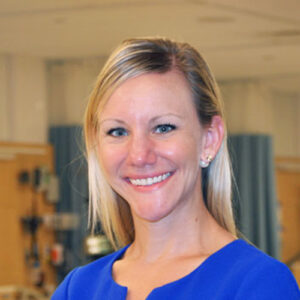 Presenter:
Julie M. Skrzat, PT, DPT, PhD, CCS
Julie is an Assistant Professor in the Physical Therapy Program at Murphy Deming College of Health Sciences at Mary Baldwin University, Fishersville, VA.  She earned her BS, MS, and DPT degrees from Ithaca College, and her PhD from Temple University. She has been an APTA Board Certified Cardiovascular and Pulmonary Specialist since 2015.  In addition to teaching, Julie partners with Lehigh Valley Health Network to conduct research, which focuses on optimizing patient outcomes for those in the acute care setting. She maintains her clinical practice at VCU's Health System. Julie is the owner of Dusza, LLC, a company dedicated to spreading education on cardiovascular and pulmonary health, which she believes is the core of movement.