Thursday, October 28, 6:00 pm – 6:30 pm
Presenters:
 Mary Beth Geiser, PT, DPT, OCS, FAAOMPT & Cameron Hui, PT, DPT OCS, Board-Certified Clinical Specialist in Orthopaedic Physical Therapy 
This rapid-fire presentation introduces student physical therapists to the newest form of patient interactions – telehealth visits & online screenings. Join us for a speed round on topic and watch a short demonstration on the best way to set up your computer screen (and your surroundings) to make a big impact on your patient's rehab journey starting with "day one".
*******************************************************************************
SELF-EFFICACY: THE EMPOWERMENT TOOL FOR CHRONIC PAIN?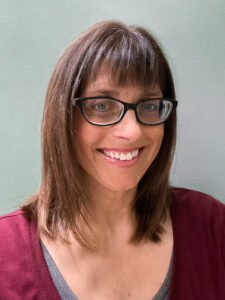 Thursday, October 28, 6:30 pm – 7:30 pm
Presenter: Mary Beth Geiser, PT, DPT, OCS, FAAOMPT
This presentation will intertwine concepts of self-efficacy, psychosocial factors, and chronic pain. After a quick dive into the literature, participants will learn about simple screening tools and how their use can lead to more meaningful encounters with their patients. Join us for 60 jammed-packed minutes of enlightenment, empowerment, and empathy.
*******************************************************************************
RETURNING PATIENTS TO THE COMMUNITY: PROVIDING PARACHUTES VIA HEALTH COACHING IN CANCER SETTINGS
Thursday, October 28, 7:30 pm – 8:30 pm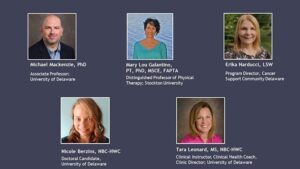 Presenters: Mary Lou Galantino, PT, MS, PhD, MSCE, FNAP, FAPTA, Distinguished Professor Physical Therapy, Stockton, University; Michael Mackenzie, PhD, Associate Professor, University of Delaware; Erica Narducci, LSW, Program Director, Cancer Support Community Delaware; Tara Leonard, MS, NBC-HWC, Clinical Instructor, Clinical Health Coach, Clinic Director, University of Delaware; Nicole Berzins, NBC-HWC, Doctoral Candidate, University of Delaware
Participants will:
• Understand and integrate tenets and evidence for the use health coaching and application in various clinical contexts
• Learn the results of targeted health coaching to improve cancer survivorship and leverage community, clinic, and academic resources.
• Strategize community partnerships for sustainable well-being of patients during care and upon discharge from rehabilitation services.