Updated Monday, April 1, 2020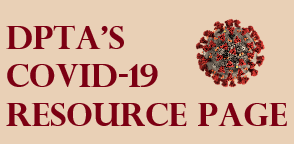 Telehealth Updates Specific to Delaware
CMS: CMS Flexibilities to Fight COVID-19,
---
With the advent of the current situation with COVID-19 and recognizing that the pandemic is a serious public health threat, Governor Carney issued the Second Modification to the State of Emergency on 3/18/2020. This modification allows temporary changes to the current Delaware Physical Therapy Practice Rules and Regulations in regard to the delivery of PT via telehealth.
Under section #9 of the Second Modification to the State of Emergency, "Effective March 18, 2020 at 8:00 p.m. E.D.T., all Title 24 statutory requirements that patients present in-person before telemedicine services may be provided are suspended. Further, requirements that the patient must be present in Delaware at the time the telemedicine services are provided are suspended, so long as the patient is a Delaware resident. Any out of state healthcare provider who would be permitted to provide telemedicine services in Delaware if they were licensed under Title 24 may provide telemedicine services to a Delaware resident if they hold an active license in another jurisdiction. The Delaware Board of Medical Licensure and Discipline's Regulation 19 regarding restrictions on the use of telemedicine is suspended."
---
Medicare Updates from CMS – Medicare Telehealth
Although CMS announced on March 30, 2020, that it would add PT, OT, and SLP services to the list of services covered under the Medicare Physician Fee Schedule when furnished as telehealth, CMS did not expand the types of providers eligible to furnish telehealth. CMS noted in the interim final rule (page 35) that current Medicare law does not allow telehealth services to be furnished by PTs, OTs, and SLPs under 1834(m). Thus, telehealth services furnished by PTs are still not covered under Medicare as of today.
That said, while this law doesn't allow therapists to furnish telehealth under Medicare, this rule was written prior to the passage of CARES Act, which amended the 1135 waiver authority, and would allow CMS to waive additional telehealth restrictions if they so choose (doesn't require them to do so). APTA is urging CMS to use its 1135 authority, amended by CARES, to expand providers eligible to furnish telehealth under Medicare, as is AOTA and ASHA. We also are encouraging individuals to use the CMS template letter to send an email to CMS, urging them to use their 1135 waiver authority, which can be found on this page: https://www.apta.org/telehealth/
---
Commercial Insurance Updates
George Edelman, PT, MPT, OCS, MTC, Chair of the DPTA Payer Relations Committee has been tirelessly contacting commercial payers serving consumers in our state to gather information regarding payment for telehealth services which are now covered due to COVID-19 pandemic. Visit the link below to access the information. Please note that this information may have changed since this document was initially written. It is recommended that you contact each patient's payer prior to treatment to confirm his or her insurance benefits. Click here to see the commercial insurance updates